Erasmus courses
Central European Studies
The Central European Studies Program offers the students courses in a wide range of academic disciplines taught in English by local faculty professors who are experts in their fields of study. For more information please visit here.
Contact Us
Erasmus Office
Address: H-1091 Budapest, Kálvin Square 9.
Tel: (+36-1) 455 9061
Email: This email address is being protected from spambots. You need JavaScript enabled to view it.

Institutional Erasmus coordinator
Ms. Ildikó Anna Tóth
Tel: +36 (1) 455 9061
Email: This email address is being protected from spambots. You need JavaScript enabled to view it.; This email address is being protected from spambots. You need JavaScript enabled to view it.

Erasmus – Incoming Buddy-system coordinator
Ms. Sarolta Zalán
Tel: +36 (1) 455 9061
Email: This email address is being protected from spambots. You need JavaScript enabled to view it.; This email address is being protected from spambots. You need JavaScript enabled to view it.

Opening hours for Erasmus students:
Our incoming Erasmus coordinator is available on Wednesday
from 13:00 to 15:00 and on Friday from 10:00 to 12:00.

Erasmus Charter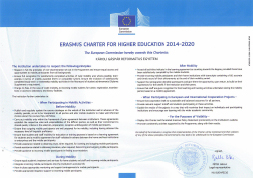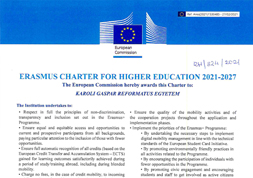 About the programme
ERASMUS is the European Union's flagship 'mobility' programme in education and training and one of the best-known EU-level actions. It was established in 1987 and since then has enabled more than 2 million students from across Europe to pursue enriching learning experiences in other countries.
What's in a name?
The programme is named after the philosopher, theologian and humanist Erasmus of Rotterdam (1465–1536), known as an opponent of dogmatism.
Erasmus lived and worked in several parts of Europe, in quest of the knowledge, experience and insights which only such contacts with other countries could bring. By leaving his fortune to the University of Basel, he became a precursor of mobility grants.
The acronym ERASMUS may also be read as EuRopean Community Action Scheme for the Mobility of University Students.
The ERASMUS Programme, together with a number of other education and training programmes, was incorporated into the Socrates Programme which was established in 1995. Socrates was replaced with the Socrates II Programme in January 2000. That, in turn, was replaced by the Lifelong Learning Programme (2007–2013) from 2007. (Source)
Erasmus+
Due to its great succes, the new EU programme for Education, Training, Youth and Sport for 2014–2020 was named after the ERASMUS Programme. For more information please visit here.